Employees have been forced to work remotely since the COVID-19 pamdemic and this has now become the new norm.  Increased flexibility, reduced costs and improved employee satisfaction are all considerable factors that motivate businesses to work remotely long after the COVID-19 pandemic has disappeared.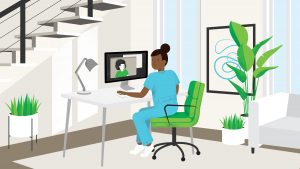 The office provides a safe and structured working environment so it is important for businesses transitioning to remote working for the first time to have secure solutions and solid strategies in place.
A Microsoft solution like Windows Virtual Desktop (WVD) offers a reliable desktop experience with impressive security features.
Secure and seamless on all devices
With WVD, your team can access the full Windows 10 and Windows server desktop and application virtualisation from anywhere. All you need is a personal device and an internet connection.
Team members working abroad? Colleagues overseas? No matter where your team are based, they can enjoy the same IT experience.
WVD integrates completely with Microsoft 365 Apps for enterprise and Microsoft Teams. Visualisation brings the office environment to each employee's home or remote space, reducing the downtime needed to set-up secure, personal workstations. Your end users have all the tools and security they need to stay busy and collaborate without disruptions.
Reduced costs
Many companies face financial issues when enforcing remote working. COVID-19 brought on unexpected changes, almost eliminating the amount of pre-planning and budgeting companies could do before making the change. Don't panic if you can't provide laptops to all your employees, you still have the ability to work remotely. Windows Virtual Desktop uses cloud infrastructure, so your team accesses a familiar PC desktop from their own devices.
You can have multiple concurrent users thanks to the exclusive Windows 10 multi-session capability.
Business as usual with protection against outages
Cloud computing with outages is not effective or efficient. Azure Site Recovery and Azure Backup technologies are built into Windows Virtual Desktop, so your team can continue running during outages or disruptions. In addition, Azure's Service Health tool can help you prepare for planned maintenance and mitigate downtime or outages.
Simpler IT management
Your virtual desktop infrastructure is managed for you with WVD. Instead of worrying about hardware and maintenance, you can focus on your users and apps.
It's easy to feel out of control when remote working. There's no physical space where you can group up together. Thankfully, cloud solutions can put you in full control of users and devices without the need to monitor in person.
User data is always secure
With WVD, you can apply adequate access controls for each user and device and manage them on demand. Reverse connections and security solutions like Azure Firewall and Azure Sentinel help reduce vulnerabilities and keep your virtual desktops secure, as well as protecting your users against cyber-attacks.
COVID-19 brought some unexpected changes that are definitely here to stay. Many businesses were already delving into the world of remote working due to advances in cloud computing and cloud infrastructure. The pandemic has only sped up inevitable developments that are sure to last, so businesses need to adapt to survive.
Don't sacrifice productivity or security now or in the future, especially when it's so easy to implement the right solution. Windows Virtual Desktop offers the benefits and features your business needs to properly transition to secure remote work.
Need IT support?

Get in touch now to find out how we can help your business