2020 has definitely been the year of Microsoft Teams. Even before the COVID-19 outbreak the platform was enjoying steady growth, but its popularity soared when the nation was forced to work from home.
In April 2020, Team experienced an increase of 70% in users.  Most organisations would be content to sit back and relax now, but it seems that Microsoft's aspirations are limitless. The company's developers have taken advantage of Teams' newfound recognition to introduce a rich set of new features this year.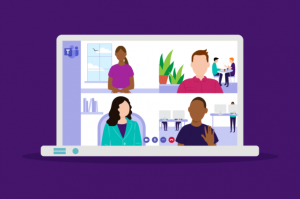 Simultaneously, Teams have been under scrutiny for many high-profile controversies. To put it mildly, it's been a rollercoaster of a year for the platform.
The biggest headlines and features for the platform in 2020 are outlined below:
Rapid increase in user growth
The platform's unprecedented growth topped technology news headlines earlier this year. In April 2020, Teams surpassed 75 million daily active users, with this number likely to have grown further since then.
Multiple window capability
Older versions of Teams only allowed users to have one meeting or call open at a time; multi-tasking was out of the question. This year, Microsoft announced "Multi-window experiences", providing the ability to have multiple windows open at once. Take a call, join a meeting, chat to a colleague – this feature offers a significant amount of flexibility.
Increase in video participants
One area Teams struggled to compete with Zoom is in the number of participants it allowed in a meeting. Originally, only four participants could be seen at a time, making large meetings somewhat clunky and unengaging. In the spring, Microsoft addressed this by introducing a 9-participant grid view, which recently grew to a 49-person video gallery.
Antitrust complaints
Some of Microsoft's rivals were not happy about Teams' increasingly encompassing popularity. In July, rival platform Slack went to the European Commission to file an antitrust complaint against Microsoft. Slack alleged that, by tying in Teams with Microsoft 365, the company had unfairly forced users to choose it over other platforms. Microsoft responded that the public's preference for Teams was due to the platform's superior video conferencing capabilities. The case is ongoing, with a result expected later in the year.
Video calls are the new face-to-face

Teams has always offered video functionality but when most employees were in the office, it was habit to either meet face to face or have a quick audio call. Since global lockdowns forced people into their homes, video calls have become the new norm and are proving to be a great way to maintain a sense of team spirit. In March 2020, video was used in 43% of Teams meetings, compared to just 21% the month before. Overall, Teams video calls have grown by more than 1,000% as a result of the pandemic.
Together Mode
This feature uses AI segmentation technology to allow up to 50 users to share a single background. Available backgrounds include an auditorium, a conference room and a cafe, letting participants create a suitable atmosphere for any type of meeting.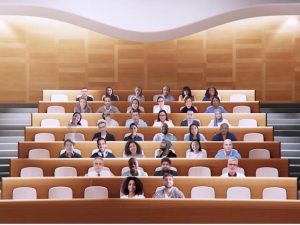 Microsoft has added a whole host of other tweaks and upgrades to the Teams package in 2020. Providing meeting hosts with greater control, the introduction of the "raise hand"   feature and even greater channel personalisation, to name a few. Microsoft is relentless when it comes to innovation, so you can expect plenty more Teams enhancements (and possibly controversies!) to come.
If you would like to read more about Teams why not check out our latest blog.
Need IT support?

Get in touch now to find out how we can help your business