The workplace has changed considerably since the COVID-19 pandemic began. This has pushed businesses to adopt a remote culture to survive. Office workers have been forced to work from the safety of their homes. Microsoft Teams, already a ground-breaking collaboration tool, has become even more paramount for millions of organisations globally.
In 2019, Teams was already enjoying a whopping 32 million daily active users. That figure more than doubled following the arrival of the pandemic, and remote working became the 'new normal'. Teams for remote working is a perfect match, but how can it support businesses in unifying remote and office working?
Adapting for a hybrid future with Teams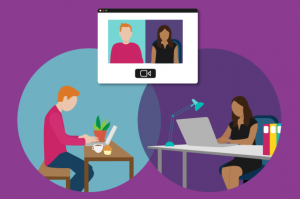 The pandemic isn't disappearing at any rate yet, and social distancing could be required for the next few years. Many businesses have found that remote working doesn't hinder employee performance; quite the opposite in fact. For organisations capable of operating online, embedding remote working in their long-term strategy and culture is a must.
Teams supports remote working seamlessly, but also provides the distinct ability to integrate and connect remote and office workers. For those hoping to return to the office or enjoy the best of both working worlds, Microsoft Teams can offer you sustainable flexibility.
Teams integrates fully with the Microsoft 365 suite, giving users a familiar experience, regardless of location, that they will have already become accustomed to with Windows. Employees can switch seamlessly between office and remote, and with the ability to blur camera backgrounds, employees no longer need to worry about where they are in the house or what's behind them. Whether in the office, at home or on the train, your employees will have the same working experience.
Why it's the only solution
It seems that there is no perfect solution when it comes to adapting your operations during a pandemic. The beauty of Teams is that, although it might not suit every organisation, you can tailor the software based on your preferences and build a more personalised system.
Microsoft is committed to developing Teams in line with the future of working; every month, new features that support a hybrid working style are being added to the ever-popular collaboration hub. It's comforting to know that Teams has Microsoft's enterprise grade security behind it and sits securely inside the Microsoft 365 protective layer.
 Key features for hybrid working:
Full integration with Microsoft 365
A proven track record for flexible working
On-the-go, seamless switching from office to remote
Mobile app, desktop app and web access
Wireless hardware compatibility
Regular updates and new features focused on flexible working
Unify your working today
There are a few comparable products available on the market that, like Teams, offer collaboration and connectivity through software. In truth, few come close to being able to offer the integration, security and connectivity that Teams provides. Microsoft Teams gives users and businesses the opportunity to digitally transform their workspace, removing the pressure of full-time office working and giving employees the flexibility to work anywhere, on any device in the cloud.
For more information on Microsoft Teams why not check out our Previous blog.
Need IT support?

Get in touch now to find out how we can help your business