Build a complete remote working solution with Microsoft
A return to the office will feel great for many temporary home workers. Getting back to the full set-up is perfect for the right now, but we are facing uncertain times. It is now more important than ever to have a full remote working solution in place; One that puts your business in a position to quickly deploy a remote working set-up.
Microsoft 365
Microsoft 365 offers what we like to call the complete remote working solution. If you're looking for a seamless migration to the cloud, advanced enterprise-grade security and a host of productivity tools, Microsoft 365 is a solution like no other. Security is a must when it comes to a remote working solution. Microsoft 365 comes with multi-factor authentication (MFA). The built-in features you receive with Windows 10 give you peace of mind that your business is secure.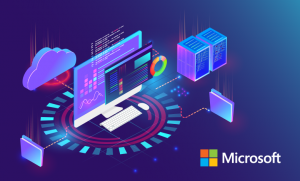 Almost every business handles sensitive data; 365 provides tailored security solutions like email encryption and data loss prevention. This will keep you protected if your remote workers accidentally share something in the wrong place. Everything is secure and kept within the digital walls of your organisation.
In the wake of COVID-19 lockdown, its important to learn the lessons that were harshly taught. Businesses could face users being ushered back into their homes in mass again. Already having remote collaboration tools in place allows you to pick up business as usual immediately. Apps like Teams, SharePoint and OneDrive, part of the 365 suite, give your staff ample opportunity to work together seamlessly.
Microsoft are constantly improving Microsoft 365 as a solution to enable users work more efficiently. Should you want to check-in on your departments and employees, Teams now has breakout rooms. This is where your staff can brainstorm ideas together in smaller groups.
Microsoft Azure
Putting your business a step ahead in times like these involves implementing cloud services. It is imperative that these can fully upgrade the way your staff have previously been working from home. Microsoft Azure is the backbone of Microsoft 365. It provides the solid, reliable cloud infrastructure that boosts the performance and security of 365. Azure enables you to run other applications on the same cloud infrastructure as 365. This gives better integration and a smoother experience.
Within Azure you can also leverage Windows Virtual Desktop (WVD): your comprehensive desktop in the cloud. WVD offers the same desktop experience for employees as when they were in the office; all wrapped in the protective bubble of Microsoft security. With WVD, you can monitor your organisation's activity live, and provide remote staff with the latest cloud solutions and upgrades. WVD rules out the need for any additional physical infrastructure, delivering a desktop set-up without the need for technical expertise.
Are you getting the completion remote working solution out of your Microsoft solution? Maybe you're looking to implement a remote working solution in the wake of the lockdown? We can support you in leveraging the benefits of a cloud solution to make your business more flexible.
Need IT support?
Get in touch with Cheeky Munkey