Enterprise IT solutions
Whether your company is already large or you are an established SME enjoying growth, it is vital to implement an IT solution that supports your company's expansion as opposed to constricting it.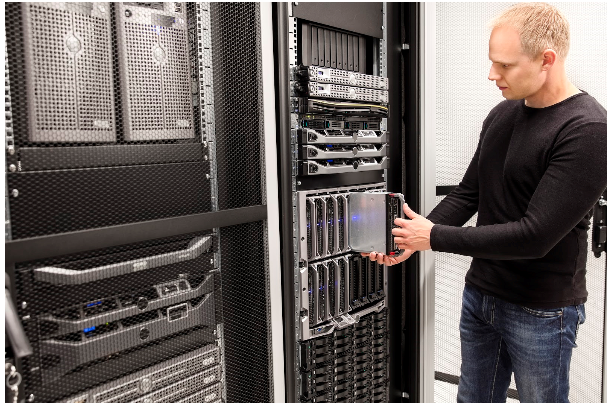 Cloud IT solutions
An excellent way to do this is to invest in a cloud based solution for your company. Using the cloud enables you to be prudent about the potential growth of your business. If your company has the capacity to expand and contract rapidly, opt for a virtual desktop solution that allows you to pay for what you need each month, rather than committing to a larger contract and wasting money.
Virtual desktops are highly accessible, allowing your employees to share software and files quickly and easily. Wherever your employees are, provided they have internet, they will be able to access their work.
If your employees are hot desking there are a number of telecommunication solutions for enterprise that may be of use. Cloud-based telephony systems give employees the freedom to log in and out of desk phones so that they can be productive wherever they are.
Whether you already have multiple offices or are intending to expand in the near future, having a telecommunications system already in place will provide you with the stability necessary for smooth and efficient business function.
Likewise, if your employees work flexibly or across different locations, installing large amounts of hardware can be inconvenient. Infrastructure as a service (IaaS) is an efficient solution to this problem, and it also removes the need for a large upfront investment in hardware. Upscaling or downscaling resources on the hosted server environment is not only cost effective, it's also easy.
IT security solutions
The cloud can also represent an excellent solution for a business's security needs. In an online environment saturated with malware and spam, keeping your sensitive data safe and ensuring that your network is protected is vital for any company. Cloud anti-spam filters are a straightforward way of blocking any junk mail and malware you may receive before it gets in the way of your business function.
The cloud also allows for the simplification of backup, as data stored in the cloud rather than on hardware in your office premises is safer. Disaster recovery can take mere minutes with a cloud backup solution, avoiding potentially catastrophic data loss or business downtime, both of which can cost your business financially.
How we can help
We're Cheeky Munkey, an IT support company with more than 120 clients spread across London and the Home Counties. From our head office in St Albans, Hertfordshire, we work with a range of companies from startups and SMEs to larger businesses, finding cost effective IT solutions tailored to their individual requirements.
Please get in touch if you'd like to find out more information on the latest developments in enterprise IT solutions and our talented team of professionals will be glad to help you find the information that you need. We'll use our years of industry experience to provide expert guidance and advice, and find a custom solution that suits the needs of your business.
Need IT support?
Get in touch with Cheeky Munkey