The Death of Windows 7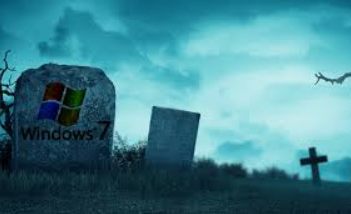 Windows 7 will no longer be supported from January 2020.
Microsoft has announced Windows 7 End of Life will take place on 14th January 2020.
What Do I Need To Do?
Identify machines that need to be upgraded or replaced
Identify and consider replacing legacy systems using older operating systems and/or software with updated technology
Develop a timeline and budget for upgrades and replacements
Implement security controls to separate critical systems from Windows 7 machines that cannot be upgraded or removed
What if you do nothing?
When your software goes out of support, it won't stop working, but the main and immediate risk is that there will be no more security updates or patches, leaving your organisation vulnerable to cyber-attacks.
Technical support for any on-going issues
Bug fixes for any new issues
Security fixes for undiscovered vulnerabilities
Additionally, users can begin to experience functionality problems due to incompatibility with newer software or systems, and the number of tickets raised will increase the workload of the wider IT team.
How can Cheeky Munkey help?
If you wish to discuss your requirements with our in-house experts, please get in touch with Rick.
Rick.Willmott@CheekyMunkey.co.uk or give us a call on 0345 456 0525.
FAQ's
Can I upgrade my existing PC to Windows 10?
Yes, you can upgrade compatible Windows 7 PCs based on these requirements with a full license. To take advantage of the latest hardware capabilities, we recommend moving to a new PC with Windows 10.
What happens if I continue to use Windows 7?
You can continue to use Windows 7, but once support ends, your PC will become vulnerable to security risks. Windows will operate but you will stop receiving security and feature updates.
Can Windows 7 still be activated after January 14, 2020?
Windows 7 can still be installed and activated after support has ended. However, to avoid security risks and viruses, Microsoft recommends that you consider upgrading to Windows 10.
Will Internet Explorer still be supported on Windows 7?
Support for Internet Explorer on Windows 7 devices will be discontinued on January 14, 2020. As a component of Windows operating system, Internet Explorer follows the same support lifecycle.
What should I do?
For most Windows 7 users, moving to a new device with Windows 10 will be the recommended path forward. Today's PCs are faster, lightweight, yet powerful and more secure, with an average price that's considerably less than that of the average PC eight years ago.
What if I'm running Windows 7 Enterprise?
If you are using Windows as part of a work environment, we recommend you check first with your IT department or see Windows 10 deployment support to learn more.
Need IT support?
Get in touch with Cheeky Munkey