Microsoft Announce Office 2016 Launch Schedule
Microsoft has announced that their new version of Office, Office 2016, will be launched in Autumn 2015. This is the first version that is designed and built for both mobile & cloud.
The question we're asking is what are the new features of the new release and how will it be better than Office 2013?  Here are a few:
–  New features in individual apps as well as new security and management options
–  Office 2016 is more colourful giving you the choice of 5 themes rather than 3 in Office 2013.  It has a colour coded look and feel that reflects the Office applications icons in toolbars, sidebars and surrounds making the different apps a lot more distinctive.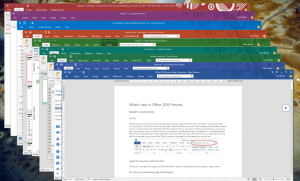 –  It is more suited to today's higher resolution displays, with improved high DPI support.
–  It gives you a search box where you can type what you want to do (line spacing, print, and so on) and get a mini menu of tools that match what you're asking for. If the tool you want is in the list, you can click on it to use the feature.
–  There are some useful improvements to the backstage menu. On the Info pane, you see more of the details about your file without having to click again to see all details, like the times when you created, last changed and last printed the file – they used to be hidden away.
–  Browsing for files to send as attachments should be simpler as the "add attachment" button in Outlook now provides quick access to all recently opened Office documents.
–  Within Outlook, there are several useful modifications – when the outlook window is made particularly small, it changes behaviour to work more like a mail client on a phone or tablet.  Instead of the usual three pane view (a list of folders on the left, a list of e-mails in the middle, and the e-mail itself on the right), it'll shrink down to a two or one pane view, as dictated by the size. In its smallest single pane view, clicking an e-mail will open it in preview, with a back button at the top left to go back to the list of messages.
–  Outlook can also sync fewer mails. Outlook 2013 defaults to storing one month of mail locally. In 2016, this can be cut to 1, 3, 7, or 14 days.
In summary, the new version of Office appears to be better than the old version, but not so much better that an Office 2013 owner should be compelled to upgrade. It's possible that will change as we get nearer to the release, but we'd be surprised if anything truly groundbreaking were added to the mature and capable suite.
Need IT support?
Get in touch with Cheeky Munkey