Small business IT support
IT support is vital to the success of a small business. The team at Cheeky Munkey explain how to find the right small business IT support service.
We offer a proactive, personalised IT support service tailored to the needs of small businesses. Get in touch to see how we can help you.
Signs you need to invest in small business IT support
There are several signs within your business that indicate you may need to invest in IT support:
Your employees are being disrupted due to IT problems on a semi-regular basis

Your employees are managing your company's IT software and hardware at the expense of their own designated tasks

It is not cost-effective for your business to employ enough in-house IT staff to manage your systems to an acceptable level
If any of the above are happening in your company, it's definitely time to consider small business IT support in London.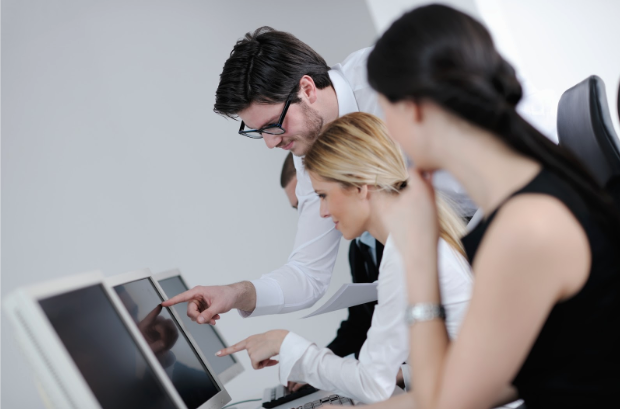 What to look for in a small business IT support service
If you are the owner of a small business, IT support that enables the smooth day-to-day running of your company is essential – but that can be difficult to find.
Outsourcing IT can seem daunting if you have never done it before. Small business IT support needs to be tailored to the specific needs of your company, as a secure and efficient means of relieving responsibility from your team. The service must also suit your budget.
When investing in small business IT support, consider the degree of personalisation the IT service provider offers. Ideally you want a highly customised proactive support service that will help your business thrive to make the most out of your investment.
Search for companies that offer individual managers for each IT system – you want an expert to manage your IT infrastructure, taking into account your budget and planned progression in order to create an IT consultancy service that is fully integrated with your business model.
You should also consider that you are giving your IT provider access to potentially sensitive information and therefore it is crucial that you are able to trust them. Search for providers with excellent up-to-date knowledge of data and legal compliance issues and qualifications, such as DBS checks. Ensure that their data protection policies are also robust.
There are also a few less obvious factors that may impact the success of your IT support service. If your service provider outsources some (or indeed many) of the IT support tasks that they offer to a range of different people, it will be next to impossible for you to establish a working relationship with the individuals who manage your infrastructure.
This becomes more of an issue if the service provider outsources overseas. Communication barriers – both written and verbal – can lead to misunderstandings and also waste time, which impacts productivity. If many people are providing your IT support, issues of accountability can also arise.
Look for a small business IT support company that prioritises retaining staff for long periods. Ideally its full-time staff will work in-house. Companies with high staff turnovers or those who outsource extensively are unlikely to provide the reliable service that your small business needs.
Finally, you want to ensure that your IT support service is a cost-effective way of managing the IT infrastructure of your company. Don't be tempted to invest in a block hours scheme that does not offer you the option of buying hours ahead of time, or a fully-managed service that costs extra for a high volume of callouts.
We have twenty years of experience providing the highest quality small business IT support.
We offer a proactive, personalised IT support service tailored to the needs of small businesses. Get in touch to see how we can help you.
Need IT support?
Get in touch with Cheeky Munkey