Computers, filing cabinets and conference tables all over the UK are beginning to collect dust. As we settle into remote working patterns, it's a worrying time for many reasons. Aside from the ongoing panic around the global Covid-19 pandemic, owners of businesses large and small are worried. They are wondering if they can effectively shift their entire model of working. It requires a change to a virtual space without losing the very things that make the company successful. Of course people are any company's number one asset; ensuring those people are productive in their work under an entirely different system can seem a daunting task.
Social Distancing
When the social distancing measures were announced by the government, some companies will have breathed a sigh of relief. Some companies may have already invested in remote working equipment. Some may even have established flexible working patterns. Others, which followed a more traditional office-based 9-5 structure, will have found it challenging. They will have engaged in a last-minute panic as they rushed to put in place new set ups. This meant implementing systems to allow them to continue trading without the use of conventional company premises. Whatever position your business finds itself in, there are things we can all learn about working from home. This will make it a more productive, more disciplined and ultimately more rewarding way to keep things up and running.
Moving your company's data and software onto remotely connected laptops is one thing. The real challenges are transferring culture into the home of each and every employee, and maintaining a positive atmosphere. This is even more challenging when people are separated by miles rather than feet. How do you make remote working an environment where your business can not only survive but thrive? The Covid-19 pandemic is increasingly likely to permanently alter the way we work. These tips from the experts at Cheeky Munkey will help you work happily and healthily whichever level of a business you work at.
How to maintain your company culture at home
For a number of people, the vast majority of your day is spent looking at a computer monitor. There is still something tangibly missing when you're not able to see and hear your colleagues or interact with them. Face-to-face encounters are a fundamental part of working life. Whether it's company-wide meetings or snatched conversations by the coffee machine. We can even feel guilty for emailing somebody if they're only sitting on the other side of the room.
Every office has its own unique culture. Some places almost as much emphasis on play as they do on work. Some companies encourage staff listen to loud music and wear whatever they like. Others might adopt a more formal approach, with noise kept to a minimum and everyone suited up. There's no right or wrong way to work, and it all depends on the nature of your industry. What's true is that when this is taken away, it's easy for employees to feel demotivated.
There are a number of ways that you can ensure people feel looked after:
Don't assume that employees will be less productive at home. Trust goes a long way. By letting people do their best rather than checking in and micro-managing them, you'll reinforce a sense of it. In a positive company culture, everyone wants to succeed.
Allow for flexible working where possible. Without a commute, people who work well in the mornings might wish to start and finish earlier. However, this needs to be balanced with your business needs, scheduled meetings and opening hours. If customers are calling at 5pm someone needs to be there.
Use informal communication channels. Formal emails back-and-forth won't cut it. You need to replicate the natural conversations that happen in the office. Microsoft Teams is a great way to pin chats to certain clients or topics, and track them easily. It also encourages open communication. A WhatsApp group could also be useful.
Use face-to-face collaboration wherever possible. This isn't to say employees should be bombarded with webcam interactions and not permitted to get on with work. Try to use video conferencing wherever an in-person meeting would have been held. Seeing colleagues in the same situation and sharing the closest thing to real interaction can provide a big morale boost.
How to look after mental health when working from home
You might find that employees take to home working like a duck to water. Especially if it's something that's been in place as an option for some time. Alternatively, you might experience technical teething problems as everyone settles into the new routine.
Having the team able to work productively and efficiently is only half the battle. It's no good for the company in the long run if people are struggling emotionally at home. It's been established in recent years that employee mental health is of paramount importance for the success of any company.
Here are some ways that you can ensure it remains a priority:
Continue to promote physical wellbeing. Healthy eating, lunchtime exercise classes and sufficient breaks may be high on the agenda in the office. Everyone should be encouraged to keep these practices up whilst at home.
Keep management visible and accessible. An open-door policy should work online as well as in a bricks-and-mortar office. Employees should feel that they can call their boss with any questions, problems, or concerns. If they understand that managers are experiencing many of the same things, then everyone benefits.
Encourage regular breaks. Working at home creates a unique pressure of its own. Encourage staff to take coffee breaks, and management should lead by example and drop off the radar occasionally, too.
Maintain transparency in the business. Uncertainty is the name of the game at the moment. That needn't impact your employees' perception of their job role. Be clear and honest about where the company is making cuts in this difficult period. You will encourage people not to worry unduly about the future of their position.
Ensure everyone is comfortable at home. It's important not to underestimate the importance of a comfortable workspace for both productivity and mental wellbeing. If employees are working on laptops, companies should provide a monitor, keyboard and mouse. This will replicate the ergonomic office setup and prevent the development of conditions like RSI (repetitive strain injury).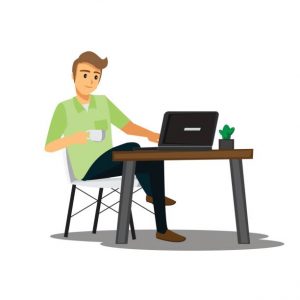 How to manage teams remotely
Managing a team while employees are working from home shouldn't be a challenge. It's not about keeping a close eye on people's activity, it's more about maintaining the same sense of working. This is the teamwork and collaboration that led to success in the office. This presents its own unique set of challenges. This includes balancing management duties with your own workload. When you can't see and freely interact with those you're responsible for this can be an initial challenge.
Strong leadership and a positive management style are more important than ever at a time like this. This could prove to be the key to the continued performance of your business.
By following these tips, you can make sure that remote management doesn't place stress upon you or your team:
Trust your team, and find the right balance. As a team leader you will not be able to task manage in the way that you normally would. Clear, succinct guidance on tasks is crucial. If you've never had a reason not to trust your team, you needn't doubt them now. Trust will be appreciated and reciprocated.
Implement regular daily check-ins. These do not have to be formal, so where possible should be done via video call, or by phone. Individual catch-ups and whole-team meetings are both important things to maintain. A regular time of day should be established for them, as structure is more important than ever.
Communicate more than you normally would. In the office, you're as likely to give information as you pass a colleague's desk or during a tea break. Without these interactions, it's too easy to wait until a daily meeting to communicate. Use informal chat tools as regularly as you can.
Take away unnecessary formalities. While it's important to keep a sense of continuity, consider relaxing some rules. If you usually expect people to join meetings in a shirt and tie, don't punish them for dressing down. This shows a level of understanding that not everyone's circumstances are the same. Someone who's got four children in the house with them might not have had time to iron.
How to be prepared when technology fails
Due to current home working, it is likely that your company is already in its business continuity plan (BCP). A large part of any company's BCP is likely to be a vastly increased reliance on technology. If you are operating remotely, everything that keeps the wheels of business turning now exists in a virtual space. Be prepared, patient and flexible when technology doesn't grant you immediate access to that space as you are used to.
It is important to look ahead and identify the possible pitfalls of the technology you are using to continue operating. Not only should you stress test remote connectivity and check the limitations of hardware and software licences, but a comprehensive disaster recovery plan can ensure that your IT infrastructure is recoverable using the very latest cloud solutions.
At Cheeky Munkey we specialise in disaster recovery. Contact our friendly team today to talk about how we could support your business during the uncertain months ahead.
Need IT support?

Get in touch now to find out how we can help your business