Windows 365 was developed to support the changing workplace model, stating it is a 'hybrid Windows for a hybrid world'. The product is easy to use and always available, regardless of the location of the user or the device they are using.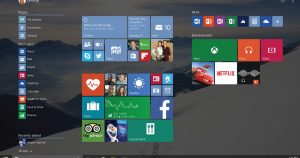 What is it?
Windows 365 is a service that allows users to access PC's from anywhere using the cloud. Any device streaming a Windows 10 desktop in a web browser or through the Microsoft Remote Desktop app will be accessible.
Whilst this virtual desktop technology is not a new concept, and although Microsoft already offers Azure Virtual Desktop, what makes Windows 365 stand out is its simplicity. Previously, desktop virtualisation has often been complex, costly and difficult to manage without in-house expertise. Windows 365 simplifies this process with easier management and a simple per-user monthly subscription cost.
What are the benefits?
The key benefit are is its simplicity, both for the end user and the business. A user can have a personalised desktop that will have the same apps and settings each time they log on. It also effortlessly integrates with other Microsoft applications as it is a Microsoft service itself. Once the user is connected to Windows 365 the computer will function as if it is a typical PC, with multi-monitor support and the ability to use the camera and microphone for Teams audio and video calls.  It is simple to create new virtual desktops as the business grows and billing is always predictable as it is per-user pricing.
Another benefit of using Windows 365 is that it massively increases security. As more businesses adopt the hybrid work model, it has been difficult to make sure that all devices are safe and secure. Windows 365 solves this problem.  This is because an IT admin can set strict security policies to ensure that all company data is secure.
How Windows 365 can transform your business
As the traditional workplace has changed drastically over the past 2 years, the way businesses view computers should change too. Windows 365 can help with the transition to a hybrid working environment. It allows businesses to decrease their hardware costs as the physical device does not need lots of computing power as the compute is through Windows 365.
Similarly, many businesses require, or may benefit from, an elastic workforce. This may include temporary interns, consultants or contractors that need access to a work device for a short period of time. In the past, the only way to accommodate these workers was to have a surplus of devices available. With this new development, temporary workers can bring their own device and have a cloud PC deployed for the time they are working for the company.
Many businesses need or benefit from an elastic workforce. This could include temporary staff such as contactors that need access to a work device for a short amount of time. Previously, the only way to accommodate these workers was to have extra devices on standby for these users. With Windows 365, temporary workers can bring their own devices and have a cloud PC assigned for whenever they need.
Need IT support?

Get in touch now to find out how we can help your business