June 2019


This survey was undertaken by

 IT support provider in London

, Cheeky Munkey. 

Embed codes for the graphics are available on request.
In recent years, much has been written about millennials in the workplace, particularly in terms of how to recruit and keep them. But although millennials are forecast to make up 35% of the global workforce by 2020, statistically they are still in the minority. People are living longer, and that isn't just true for younger millennials – reports also state that, by 2020, a third of UK workers will be over 50. So, with those aged 35-64 making up a hugely significant percentage of the current workforce, it is essential for recruiters to take this larger and more varied age group into equal consideration.
With this in mind, we undertook an anonymous survey of professionals from 122 workplaces aged 35-64. We wanted to better understand their workplace experiences and compare them with those of younger generations. The survey provides a striking insight into what can be done by recruiters and companies to attract and maintain professionals aged 35-64.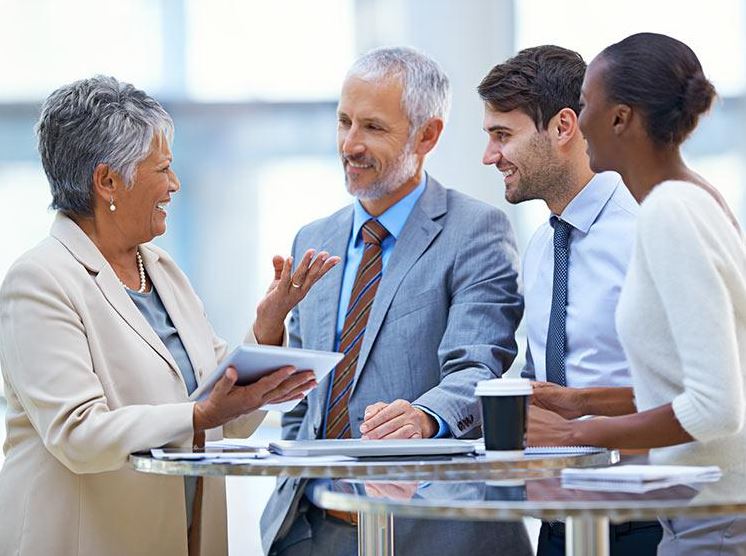 Training
When we asked our respondents about the degree of training they had received over the past year, we found a huge 61% had received none at all. This is despite the fact that, over the past few months, a boom in the number of older workers – specifically those aged 50+ – has helped employment in the UK to reach a record high.
This may partly be explained by the government's changes to the State Pension age, which as of this year is 65 for both women and men. Previously it was set at 60 for women, and as a consequence, more women are having to work longer. On top of this, the State Pension age continues to increase: by 2028, it will be 67 for everyone. It is clear that older workers of both sexes are becoming increasingly important to the UK economy, so appropriate training and development will be essential for workplace productivity.

Despite all this, it is the older end of the 35-64 year age group that receive the least amount of workplace training – a staggering 76% of 55-64 year olds said they had had no training at all in the past year:
It is interesting to note, though, that those aged 45-54 were more likely to have had training than both their younger counterparts and those in the 55-64 category. Some reports suggest that older employees are more likely to face redundancy because they are perceived as more expensive and perhaps this perception also factors into training opportunities. Whatever the reason, it seems employers are more likely to invest in workers aged 45-54 than those nearing retirement age – or those a decade younger. It may be that workers with the heaviest financial (family) commitments are requesting and driving this.
Perhaps unexpectedly given the widely reported gender pay gap, gender is not a significant factor in determining how much training those aged 35+ receive – the percentage of those who said they had not received training at work was the same for women and men (61%).
Workplace attitudes
We asked 35-64 year olds about their experience within the workplace. Their responses revealed that ageism has impacted not only their ability to find employment, but also their treatment once hired.
26% of over 35s describe themselves as having experienced age discrimination in the workplace and an even larger number (36%) believe their age was a disadvantage during the interview stage. In terms of workplace attitudes there is a gender discrepancy, with 39% of women over 35 saying that their age has worked against them, compared with 32% of men. This is not surprising, as gender discrimination in the workplace is a factor for women of all ages. On average, women's earnings peak at the age of 40, 5 years earlier than their male counterparts.
The survey also reveals that many over 35 believe they have skills that are not being put to use. 52% said they have more to offer and this is particularly true for men – 64% of men reported feeling under-utilised, compared with 42% of women.

The study shows that appropriate training can make a big difference to how 35-64 year olds are treated – 54% of those who had received training in the last year felt their colleagues respected their experience, but for those who have not received training, only 32% felt the same way. It is a troubling reflection on workplace ageism that without training, a majority do not feel their knowledge is sufficiently valued.
Workplace training and professional development also impacted how respondents felt about moving jobs. 29% of those who had received no training did not feel qualified to change roles, but for those who had received training the figure was only 4%.
The benefit of experience
In terms of the benefits over 35s bring to the workplace, most saw their key skills as leadership, management and mentoring:

Again there were some gender differences, with 64% of men answering 'leadership and management' compared to 52% of women. This may reflect the increased likelihood of male employees to be in high ranking positions within the workplace.
67% of women and 43% of men over the age of 35 also believed that their lack of reliance on social media in comparison to younger workers was an advantage to them in the workplace. This reveals that 35-64 year olds may consider social media as a hindrance to workplace productivity, which is a fact that recruiters should take into consideration when working with this age bracket.
Training can again make a big difference, particularly when it comes to seeing diversity as a benefit – whereas only 13% of those who hadn't received training listed this as an advantage they could bring, the figure rose to 37% among those who had received training.
Looking for a job
When we compare the data collected from 35-64 year olds with the younger Millennial generation, we can see some striking contrasts in terms of how each group approaches a job search.
Online job boards such as Indeed and Monster ranked highly among both demographics: 69.35% of over 35s said this was a method they used as did 52% of millennials. 51% of millennials would look on social media sites such as LinkedIn, Facebook and Twitter, compared to just 34% of over 35s – perhaps reflecting 35-64 year old's view of social media as having a somewhat negative impact on the workplace.
The biggest disparity seems to be in the use of digital recruiters. This was millennials' favoured way of conducting a job search (65%). By contrast, only 32% of workers aged 35-64 said they would use digital recruiters. But when it came to high street recruiters, both millennials and those aged 35-64 had similar thoughts – 21% of 35-64 year olds used them, as did 21% of millennials. It's perhaps surprising that a generation of digital natives use high street recruiters as much as their older counterparts.
Another interesting observation is that those over 35 were more likely to be approached directly by recruiters, with 40% saying this was part of their process as compared with 19% of millennials. This is likely to be because, as workers progress in their careers, they are more likely to be sought out for their experience than those that are younger – plus the fact that their networks will be more mature.

Towards retirement
Our survey revealed that the majority of 35-64 year olds in the workplace (44%) thought they would retire between 65 and 69, with 34% of women and 52% of men estimating that they will finish working at this age. With the State Pension set to reach 67 by 2028, it looks like a majority are expecting to have to work until they can claim it.
Improving the interviewing process
The data showed that increased transparency surrounding salary was important for over 35s, with over half (53%) choosing this as the number one potential improvement to the interview process. Interestingly, the same was true of millennials, with 60% of candidates selecting this as their top option.
55% of male employees over 35 describe flexible interview times – specifically interviews out of office hours – as the one factor that would make the interview process better for them. This is in comparison to 45% of female employees – perhaps because women are more likely to work part-time and therefore their interview time needs will be different.

Millennials rate being given feedback if unsuccessful at interview very highly, with 59% describing it as a priority. Over 35s feel less strongly about this, although 43% also stated this would improve the interview process. A higher percentage of millennials 36% also expressed interest in the prospect of being interviewed remotely, compared to just 21% of professionals within the 35-64 age bracket. They may be more at ease with a physical presence displaying their age and have a more confident body-image when video is involved.
Why does it matter?
All in all, it seems clear that although there is no one-size-fits-all approach to recruitment, there are certainly key differences in how those over 35 view their place in the workplace – and how they are viewed by others. Recruiters and employers will need to keep this in mind when it comes to attracting, training and retaining staff in this age group.
With older workers set to become even more essential to the UK economy, keeping those staff onboard and up to date with their training is going to become very important in the years and decades to come with even more emphasis on the 55 and over age group. Increased life expectancy and changes to the State Pension age mean we'll all be working until we're older  – and with many citizens not making sufficient pension provisions, the reality is retirement ages will be even higher than anticipated here, so now more than ever, workplace ageism should have no place in business.
This data is open sourced using CC-BY 2.0. You can share and adapt for your own purposes but must credit us (via linking to this page) as the original source. See here for more information.
Need IT support?

Get in touch now to find out how we can help your business