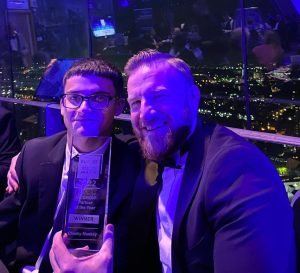 On Thursday 26th May 2022, we were delighted to win the Vuzion GROW Partner of they Year Award 2022.
The GROW Award is awarded in relation to how Vuzion's Partners have built their online brand over the past year.  Cheeky Munkey have done a fantastic job of building upon several brand topics through:
Weekly Blogs – Keeping clients up to date twice a week with blog posts on relevant topics. They  often include quick 'how to' guides. Top IT tips and helpful  information which can be used every day at work.
Social Media Posts – developing our existing social media following and using Instagram, Linkedin, Twitter and Facebook.
Mail shots – targeted at our clients to match blogs to our client base.
We want to say thank you to Vuzion for recognition of our work and also to our clients for reading and sharing our content.
In 2023, we plan to increase our online presence even more, bringing more valuable contents to our clients.
Need IT support?

Get in touch now to find out how we can help your business