As Businesses continue to work remotely, we have heard all about the benefits and not too much about the struggles. For many people the move from the office to home working was difficult. When you are unfamiliar with not working in the office it can be hard to stay motivated and focused at home, when there are so many distractions.
Thankfully, modern tools like Microsoft Teams can make remote work much more manageable.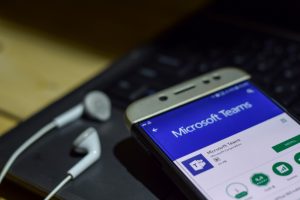 Here are a few ways you can take full advantage of Teams:
Stay in touch on the go
Even though you may only be a few steps from your worksplace at any time when working from home, there may be times when you have to pop out or otherwise be away from the desk. The Teams mobile app lets you chat with colleagues, engage in video or audio meetings, or edit documents from any location.
This a blessing for those wanting to work on the sofa, but it can also cause issues when it comes to work-life balance. You can stay tuned in at any time of the day but it's often a good idea to take a step back on your breaks and after work hours. For this purpose, Teams has 'away' and 'unavailable' statuses, and you can set quiet hours to ensure that you can disengage from the working world to allow for hobbies and time with families.
Research suggests that the pandemic has affected many people metal health. Checking in one on one with your colleagues through Teams can give you a safe space to vent or chat personally with your colleagues.
Stay organised in your channels
It can be difficult to stay focused and organised when there is a lot going on at home. Teams provides tools to separate employees into various channels for different departments and functions. Hide teams or channels you aren't actively participating in to reduce clutter and focus on your role.
Share and co-edit your work
When it comes to collaboration, Microsoft Teams has tools to provide the full office experience. Full integration with Office 365 allows you to share and edit documents in real time. Open your conversation panel while in edit view to discuss changes as they're made and ask for clarification where needed.
Make your meetings more productive
Virtual meetings are a new experience for many, but with the right equipment and software they can quickly become even more effective than physical ones.
Before a meeting starts, share an agenda. Prepare context from previous meetings and share documents ahead of time. Make use of the recording features for and share the meeting to those who may be unable to attend.
While discussing, write in the chat if you have questions or want to speak, so attendees can grab attention without interrupting the flow.
Lighten up your workday
It can be easy to get caught up in productivity optimisations when remote working.  Use GIFs, likes, and custom backgrounds to keep the conversation fun, all of these features are all available in teams. Run live events to replace work outings. Set up polls in meetings to create a sense of interactivity.
Need IT support?

Get in touch now to find out how we can help your business