7 FAQ's. The Death of Windows 7
FAQ's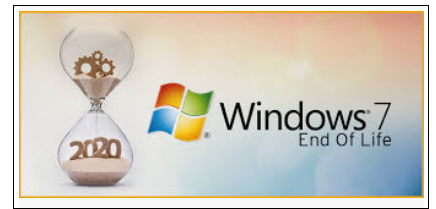 Can I upgrade my existing PC to Windows 10?
Yes, you can upgrade compatible Windows 7 PCs based on these requirements with a full license. To take advantage of the latest hardware capabilities, we recommend moving to a new PC with Windows 10.
What happens if I continue to use Windows 7?
You can continue to use Windows 7, but once support ends, your PC will become vulnerable to security risks. Windows will operate but you will stop receiving security and feature updates.
Can Windows 7 still be activated after January 14, 2020?
Windows 7 can still be installed and activated after support has ended. However, to avoid security risks and viruses, Microsoft recommends that you consider upgrading to Windows 10.
Will Internet Explorer still be supported on Windows 7?
Support for Internet Explorer on Windows 7 devices will be discontinued on January 14, 2020. As a component of Windows operating system, Internet Explorer follows the same support lifecycle.
What should I do?
For most Windows 7 users, moving to a new device with Windows 10 will be the recommended path forward. Today's PCs are faster, lightweight, yet powerful and more secure, with an average price that's considerably less than that of the average PC eight years ago.
What if I'm running Windows 7 Enterprise?
If you are using Windows as part of a work environment, we recommend you check first with your IT department or see Windows 10 deployment support to learn more.
Slow and steady wins the race so is it too late to start?
Starting the move away from Windows 7 with plenty of time in hand means it's possible to think carefully about the whole IT setup, and maybe do a much needed general spring clean both on the hardware and software sides. But with just under 3 months to go, it's a vital time to make a fundamental shift.
Need IT support?
Get in touch with Cheeky Munkey