Teams is the ever-evolving teamwork platform
In the last six months, Microsoft Teams has reached new heights in the world of remote collaboration. Teams is an ever-evolving teamwork platform for businesses of all sizes. Businesses of all shapes and sizes have been leveraging the features and benefits to improve their productivity. Keeping remote communication as smooth and as effective as possible is essential for businesses in the new normal.
As such, Microsoft Teams has deservedly earned its status as the ultimate tool for teamwork in this remote working era. Teams truly has become the ever-evolving teamwork platform that businesses have turned to. Group calling features, collaborative channels and seamless integration with the full Microsoft 365 suite, has given companies increased productivity. Employees have also found that their morale is being lifted due to greater flexibility and ease of remote working.
In the last 2 weeks, Microsoft announced their latest run of enhancements to the platform. Primarily, these features are focused on improving the overall user experience when collaborating remotely.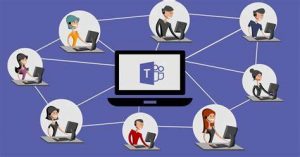 Here's what's new in Microsoft Teams:
1) Large gallery view
View up to 49 other participants in your group calls, which was a heavily requested update. This feature will support both SMB and enterprise businesses. It is particularly beneficial to those who may prefer to video call for department or whole company meetings. By having everyone on-screen, you can allow for much better engagement and responsiveness.
Bonus feature – Microsoft have also increased the participant capacity from 250 to 300 users. Larger organisations, for example now have more flexibility in hosting large-scale meetings remotely.
2) Multi-window calls & meetings
If you want to keep notes during meetings, doing this just got a lot easier with multi-window capability. Clients can now move around the Teams app whilst in calls or meetings and users can pop-out windows so you can multi-task.
3) Instantly launch channel meetings
Users can now deploy meetings in a single click with the 'meet now' button stored in the channel header. This will be a game changer for departments that need to get together quickly. There's no need to re-dial members if they miss the call and they can join the meeting any time.
4) Improvements to call transfers
Calls can now be transferred safely to another user within your organisation. As a result, if the call recipient does not answer, it will ring back to the transferrer.
5) Priority notifications
Got a task that needed to be done yesterday? Now users can set up priority notifications, rating meetings, tasks and deadlines as standard, important or urgent. You can continually send notifications that repeat every 2 minutes. This can be done for up to 20 minutes, meaning it will be harder for you to miss deadlines and meetings.
Microsoft Teams is asserting its dominance as the leading digital workspace tool for collaboration. The best way to make the most of these Teams features is through a Microsoft 365 subscription. Talk to us today to get advice on how to tap into the most valuable features of Teams and Microsoft 365. Above all, we can improve your business collaboration and productivity.
Need IT support?
Get in touch with Cheeky Munkey